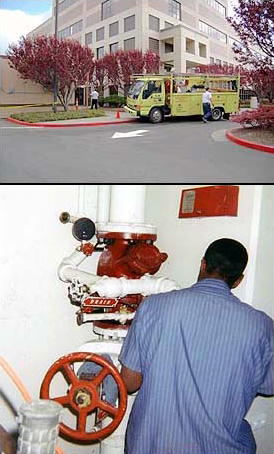 It is been proven that fire sprinklers save life and property. C.R Fireline designs, installs, maintains, and retrofits commercial, industrial, and residential types of automatic fire sprinkler systems.
C.R Fireline is a fully licensed and insured C-16 and C-lO contractor and complies with all NFPA standards, along with state and local requirements. Our fitters have the most up-to-date equipment and training. Fire sprinkler services include:
In-House Sprinkler Design Department
Service Fleet Equipped to Make Repairs on the Spot
Radio Dispatch Service Crews
Quarterly, Semi-Annual, Annual and 5-Year Inspections
Testing of Wet or Dry Standpipe Systems.
Sprinkler Systems Work Performed To NFPA-13 and 25 Standards
CPVC Plastic and Steel Pipe Repairs and Installations
Fire Hose Servicing
Certification of Fire Hydrants
Seven Annual Main Drain Tests
C.R. Firelines's highly trained technicians provide 24-hour emergency response to service damage and or leaking sprinkler systems of all types.