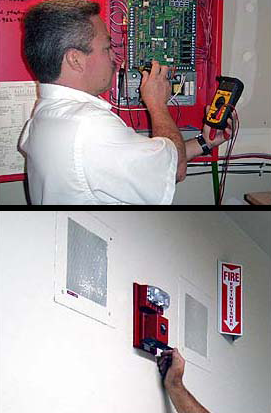 C.R. Fireline is a 24/7 company which responds immediately for any type of emergency. Our professional staff is on call for all aspects of fire protection situations, from fire alarms in the middle of the night to upgrade and installation of new equipment. We can work on almost any kind of fire panel from silencing an alarm to replacing faulty devices. Our trained technician services include:
Service and Inspect Fire Alarm Systems Both 110 and Low Voltage.
Install Systems Meeting NFPA 72 and 101 Standards
Upgrade Existing Fire Systems
Perform Annual, Semi-Annual, and Quarterly Fire Alarm Certifications
Install and Repair Emergency Lights
Install and Service High and Low-Voltage Smoke Detectors
Install Fire Alarm Initiating and Notification Devices
Install, Test, and Certify Emergency Lighting
The FACP (Fire Alarm Control Panel) and its components constitute one of the most significant fire safety devices available. The FACP has been proven to be save lives and property by alerting both the occupants of the structure and the local fire department of the fire emergency situation.