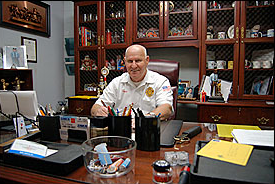 C.R. Fireline was established in 1982, by Clarence Robichaud. Clarence's passion and involvement with fire protection started when he lived on the East Coast, and dreamed of building a company that serviced ALL aspects of fire protection. After moving to California he started C.R. Fireline with a single fire extinguisher truck. Over the years the company has grown. Today C.R. Fireline is a modern company with a fleet of service vehicles, with state-of-the-art equipment, a knowledgeable staff, incredible service, and old fashioned values.
No job is too large or too small for C.R. Fireline: from a simple inspection, to the design and installation of a fire sprinkler or fire alarm system. In addition to our fire sprinkler and alarm divisions, we have an in-house designer, and we are a hydrostatic testing facility that can perform D.O.T. high pressure testing along with the service and maintenance of Halon and C02. We also distribute racing nitrous oxide and fill paintball and S.C.U.B.A. tanks.
CR. Fireline is a member in good standing of the following organizations and associations: AFSA, Cal-Safe, NAFED, California Automatic Fire Alarm Association, Better Business Bureau, and the Concord Chamber of Commerce.
Our highly skilled team has continuing education to keep us abreast of new fire and safety methods and techniques.